Vacuum Type Road Sweepers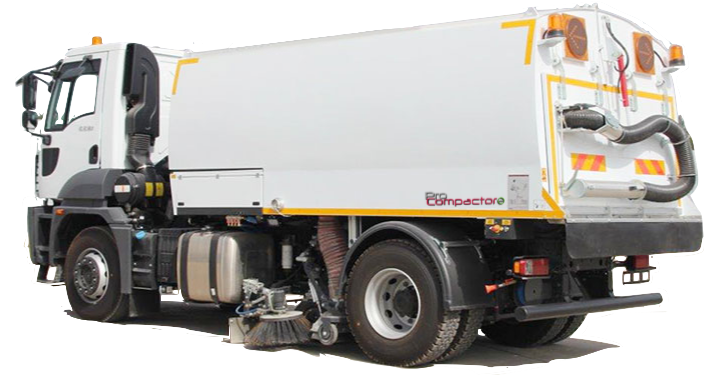 As a way to combat traffic congestion and improve air quality, most cities have opted   Truck-Mount Vacuum Type Road Sweepers that help to sweep streets of debris. These sweeping vehicles typically use a jet nozzle to shoot water on the street, which both loosens and removes debris from the surface. Road sweeping is very much effective at removing debris from streets that it can be used as a means of controlling dust on unpaved roads.
Procompactor Road Sweepers are vehicles that are used to keep streets, roads, pavements, and other hard surfaces clean and free from dirt.
Truck-Mount Street Sweepers not only keep the streets cleaner, but they also help with storm and water pollution prevention. It prevents unwanted materials from flowing into the storm drains and polluting our beaches and causing backups and flooding. It also keeps job sites clean and safe and helps to minimize tire damage.
Truck-Mount Vacuum Type Road Sweepers  are equipped with garbage, dust collection bin, and cleaning system, special structure special operation vehicle used to remove and collect any material on the roads, streets, highways and etc.
Procompactor offers the best easy solution truck mount street sweepers from 4cbm to 10cbm volume.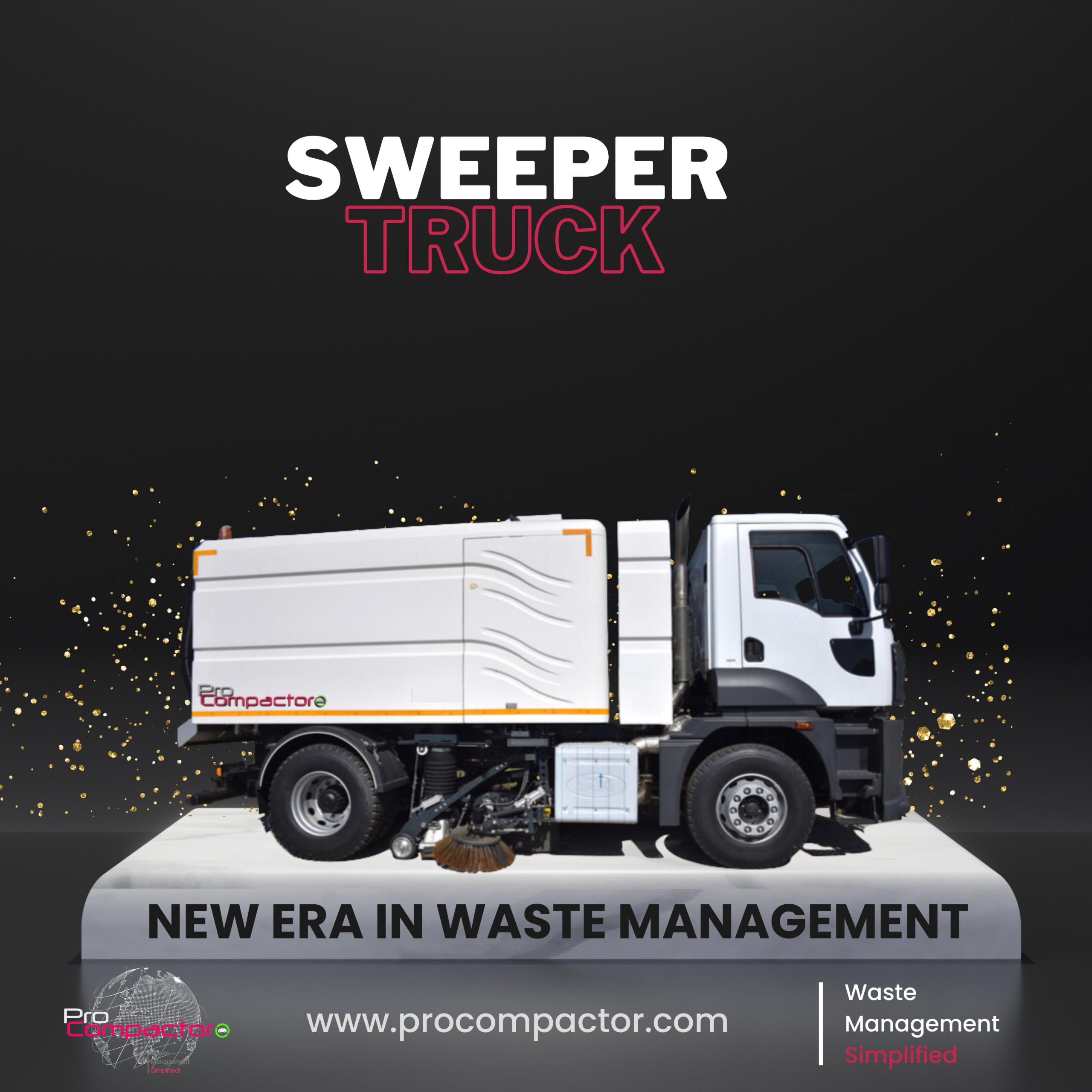 Main Features of Truck-Mount Road Sweepers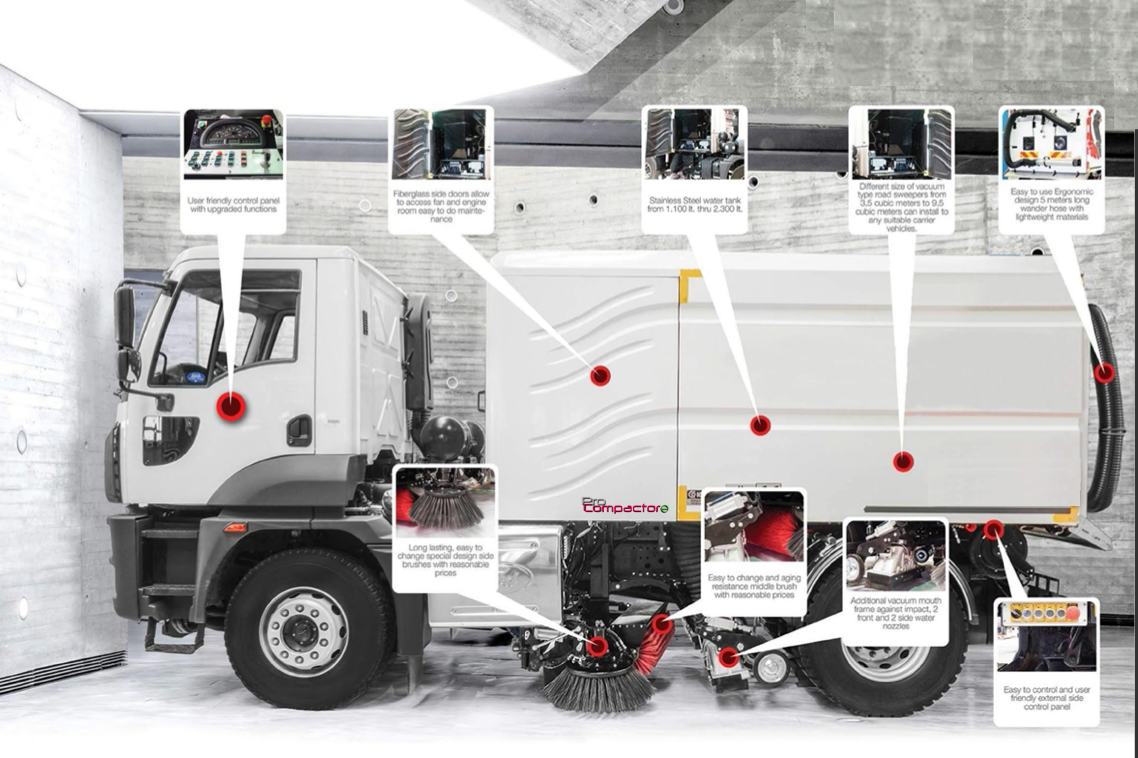 Main Features of Truck-Mount Vacuum Type Road Sweepers are as follows:
Garbage hopper installation in the desired volume on a suitable carrier vehicle between 4 m³ and 10 m³.
With the 115 HP auxiliary engine, which is used as a standard in all superstructures we offer, the power required for vacuum is obtained at lower revs, thus providing fuel savings and a quiet operation.
Thanks to the stainless water tank placed on the bottom of the garbage can with a 10% slope, easy garbage disposal is possible.
The easy-to-understand and ergonomic control panel allows the operator to fully control the equipment during use.
Thanks to the fiber cover on the right and left sides, auxiliary engine maintenance, malfunction, etc. fast and practical solution without having to remove the superstructure in interventions.
Thanks to the high-pressure water pump used as a standard, more efficient irrigation is provided, while the optimum consumption level has been achieved with less water consumption.
The camera system helps the operator watch the operations taking place
User-friendly panel to operate
Portable Remote Controller
________________________________________
Ergonomic Design & User-Friendly System
The sweeping system on a truck mount road sweeper typically consists of a broom or brush that rotates and agitates the road surface, loosening and picking up dirt, debris, and other materials. The sweeping system is mounted on a hydraulic arm that can be adjusted to the desired angle, allowing the operator to reach tight spaces and difficult-to-clean areas. The dirt and debris are then swept into a collection hopper, which can be emptied as needed.
One of the key benefits of truck mount road sweepers is their versatility. These vehicles are designed to be used in a variety of different road cleaning applications, including sweeping roads, highways, parking lots, and other paved surfaces. Additionally, the sweeping system can be adjusted to accommodate different types of road surfaces, making these vehicles ideal for use in a wide range of applications.
For more on ergonomic compacts sweepers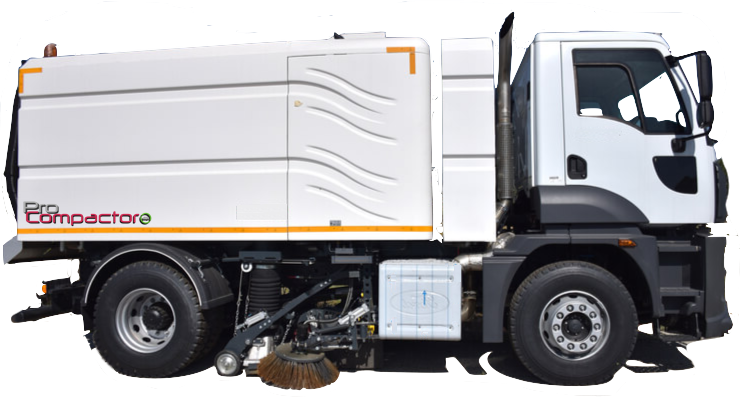 Another advantage of truck mount road sweepers is their efficiency. These vehicles are designed to clean roads quickly and efficiently, allowing them to get the job done in a fraction of the time it would take to do the job manually. Additionally, the vehicles are equipped with large storage hoppers that allow them to store the dirt and debris that are picked up, reducing the need for frequent trips to the dump.

________________________________________
Volumes we offer on Truck-Mount Vacuum Type Road Sweepers in m3(cbm)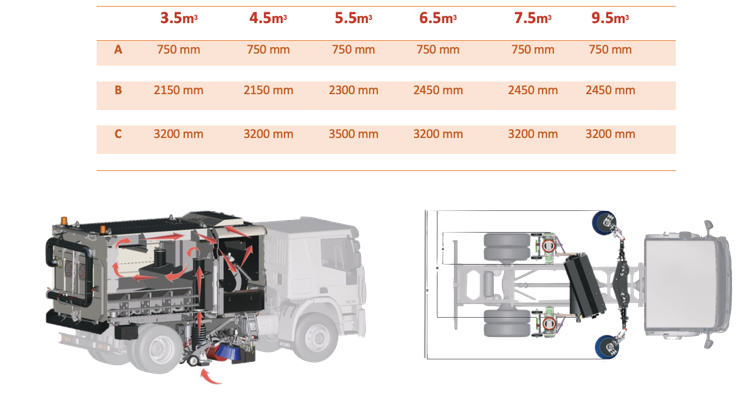 Truck mount road sweepers are also known for their durability and reliability. These vehicles are built to withstand the rigors of heavy use, and they are equipped with robust hydraulic systems that are designed to provide reliable and consistent performance. Additionally, the sweeping system itself is engineered to be strong and durable, ensuring that it can withstand the wear and tear of regular use.
In addition to their versatility, efficiency, and durability, truck mount road sweepers are also designed with safety in mind. These vehicles are equipped with a number of safety features, including backup cameras, safety lights, and alarms, that help to ensure the safety of the operator and the public. Additionally, the vehicles are equipped with monitoring systems that allow the operator to keep an eye on the broom and brush speed, ensuring that the sweeping process is as safe as possible.
Overall, truck mount road sweepers are an essential tool for any company that needs to keep roads clean and safe. With their versatility, efficiency, durability, and safety features, these vehicles are an ideal choice for a wide range of road cleaning applications. Whether you are working in the construction, waste management, or road maintenance industries, a truck mount road sweeper is an investment that is sure to pay off over time.
     Contact Us