Semi Trailer Garbage Transfer Compactor 85 cbm Capacity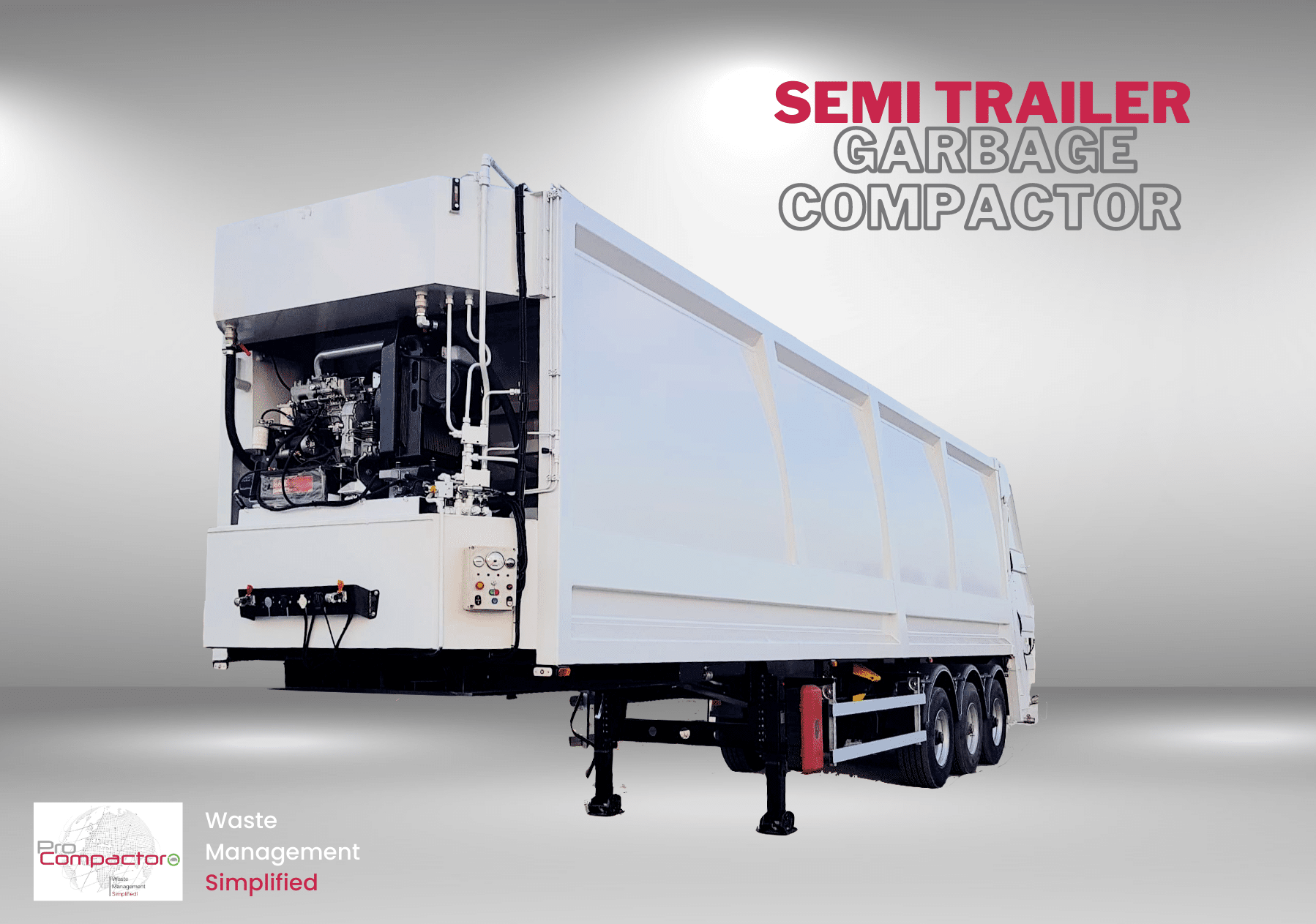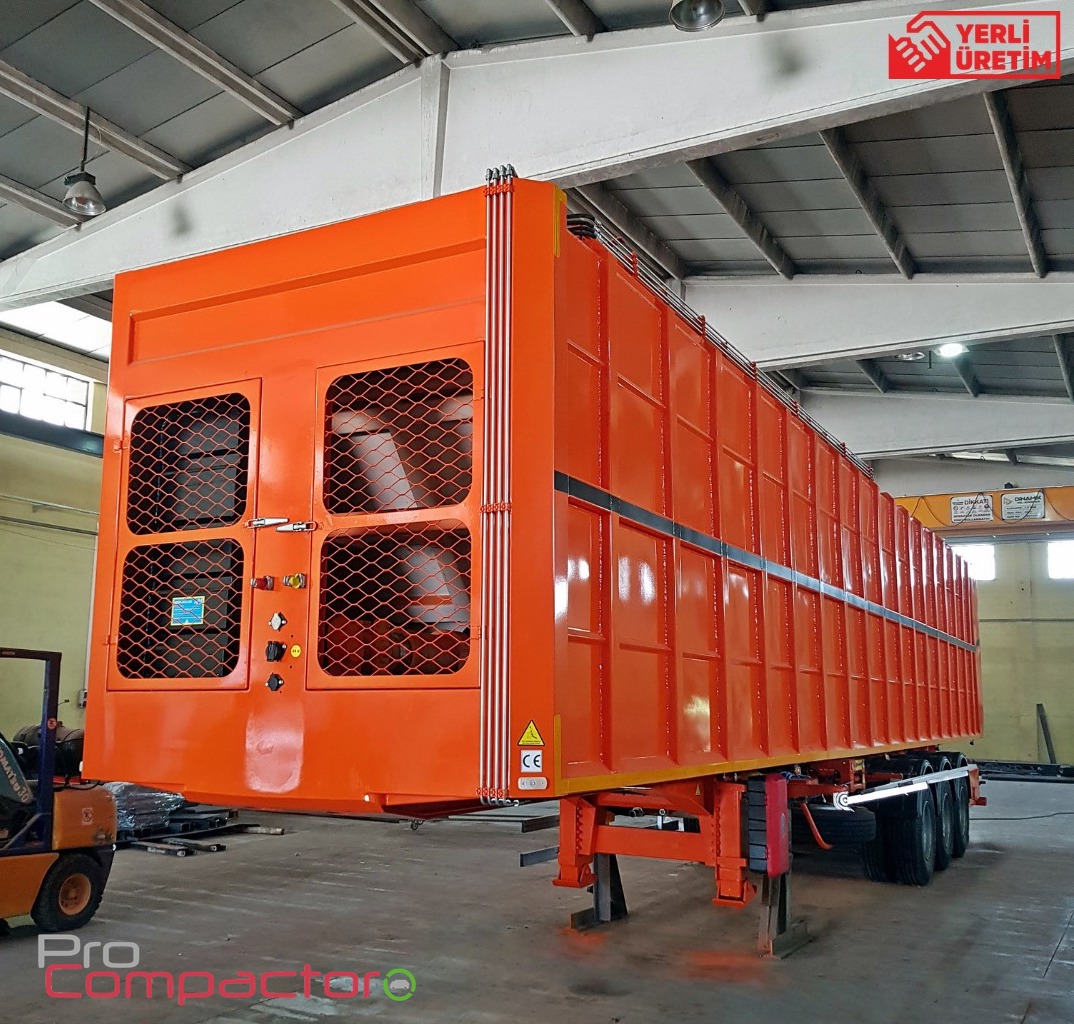 Procompactor design and develops Semi Trailer Garbage Transfer Compactor for waste management equipment.
Procompactor Semi Trailer Garbage Equipment is mostly used for transferring solid waste to long-distance facilities.
Thanks to its capacity, smaller garbage trucks can load their load onto such trailer equipment to save time and gas thus sustaining the collection of solid waste in operation at all times.
PRO85 self-contained semi-trailer is designed and manufactured for the transport of dry waste or moist waste. The compact finished system can be continuous or discontinuous with a compression ratio of 1:6.
PRO 85 semi-trailer is suitable for the storage and transportation of all kinds of waste that can reach a load capacity higher than the allowable level compared to the mobile floor thanks to its compaction system. The PRO60 belt system, combined with our Ejection/Discharge Plate made of high-strength and tough metals, proves to be an excellent transport transfer station, saving many long trips to smaller capacity compactors for picking towards reject destinations.
The body consists of a body and its subframe mounted on a truck chassis, a tailgate with a compaction mechanism, discharging/ejection plate inside the body, a bin lifter device, hydraulic and electrical components, and their installation on the garbage compactor.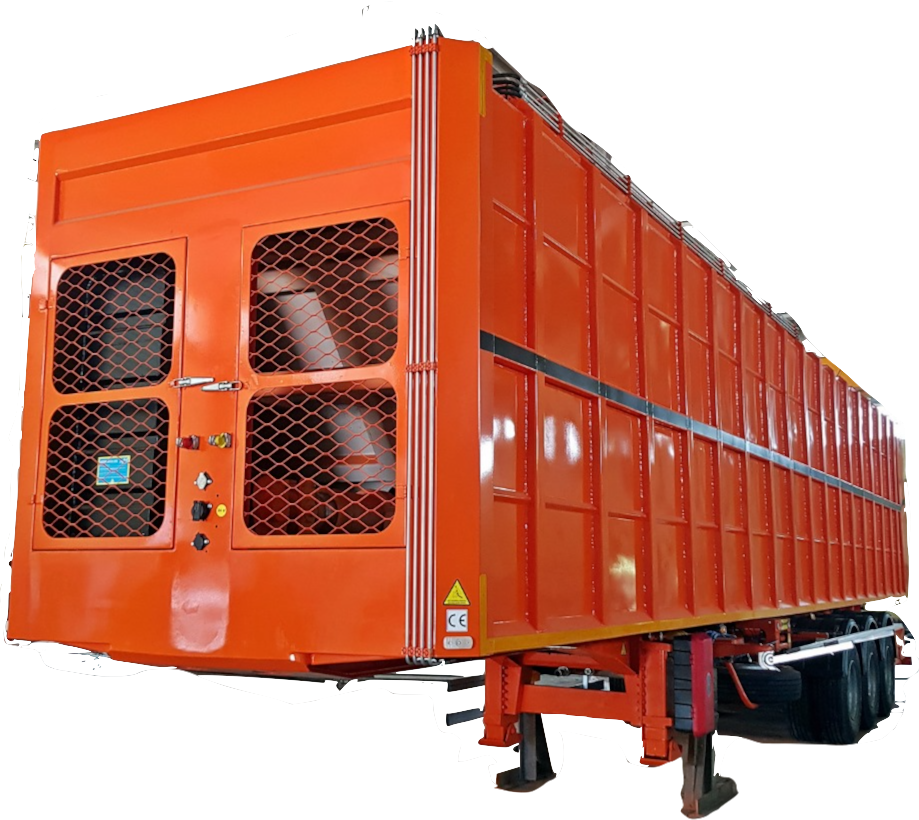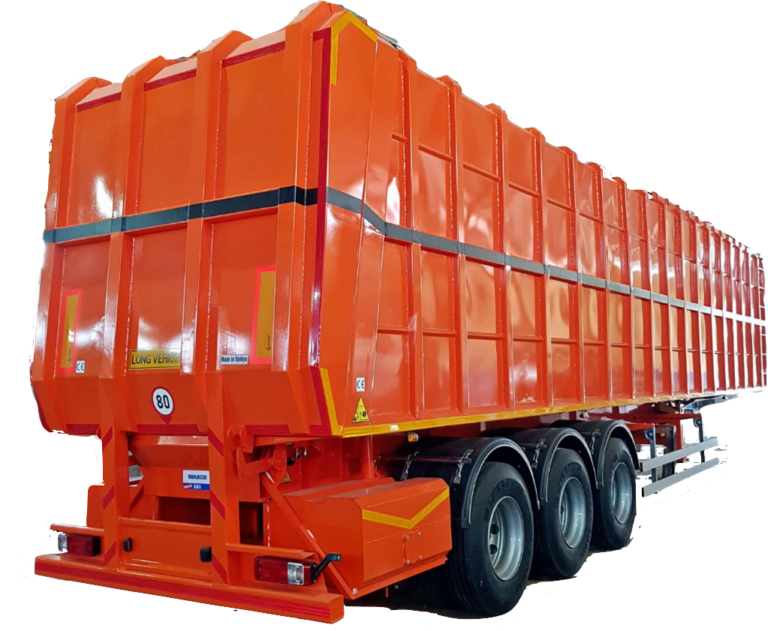 Technical Specs of Semi-Trailer Garbage Transfer Compactor
LENGTH 13.50 m
Axle, Suspension, Brake and Accessories
3×16 Tons Axle Set, Double Tire, Made in Turkey
Axle Center Dimensions maximum 1320-1,400 mm
14 Layer Leaf Spring
Air Brake.
12.00 R 22.5 Tire: 12+1 Load Index 4500 Kg.
Landing Gear: Mechanical
King Pin : 2" MPD Brand Made in Turkey
King Pin Ground Height: 1,250-1,350 mm
6 Lt Fire Extinguisher Box: 1 Piece
Wheel Choke: 2 Pieces
Spare Wheel : Pipe Type
Side Protection: Steel Profile
Electricity: 12 V Euro Standard 2-7 pins; Central and Eastern Europe 24 Volt
Electrical Set: Saba Brand E Certificated
ABS Connection Plug: 7 Pin.
Primary Paint : Epoxy Paint
Final Paint : Acrylic Paint
Mudguard Set: Plastic Type
Waterproof Back Waste Loading
Completely Waterproof Lower Chassis
Load Volume 60m3
Legal Net Useful Capacity 40'000 Kg
Compression Ratio—1:6
Construction Made Of Special Steels In Different Thicknesses
Hydraulic :Hydraulic On / Off.
Back Loading Chamber 3m3
Loading Speed 8-10m
Single Line Compression Cylinder
Working Pressure 200 Bar
Download Time 4 \ 30″
Oil Tank 250 Lt
Hydraulic System According To "Cetop" Standards
12v Dc Electrical System And Electronic Board
Operation In Manual Or Automatic Mode
• Anti-Tipping Compaction Shovel, Inserted In A Sliding Guide; Lateral Stability Ensured By Polizene Stripes
New From The Factory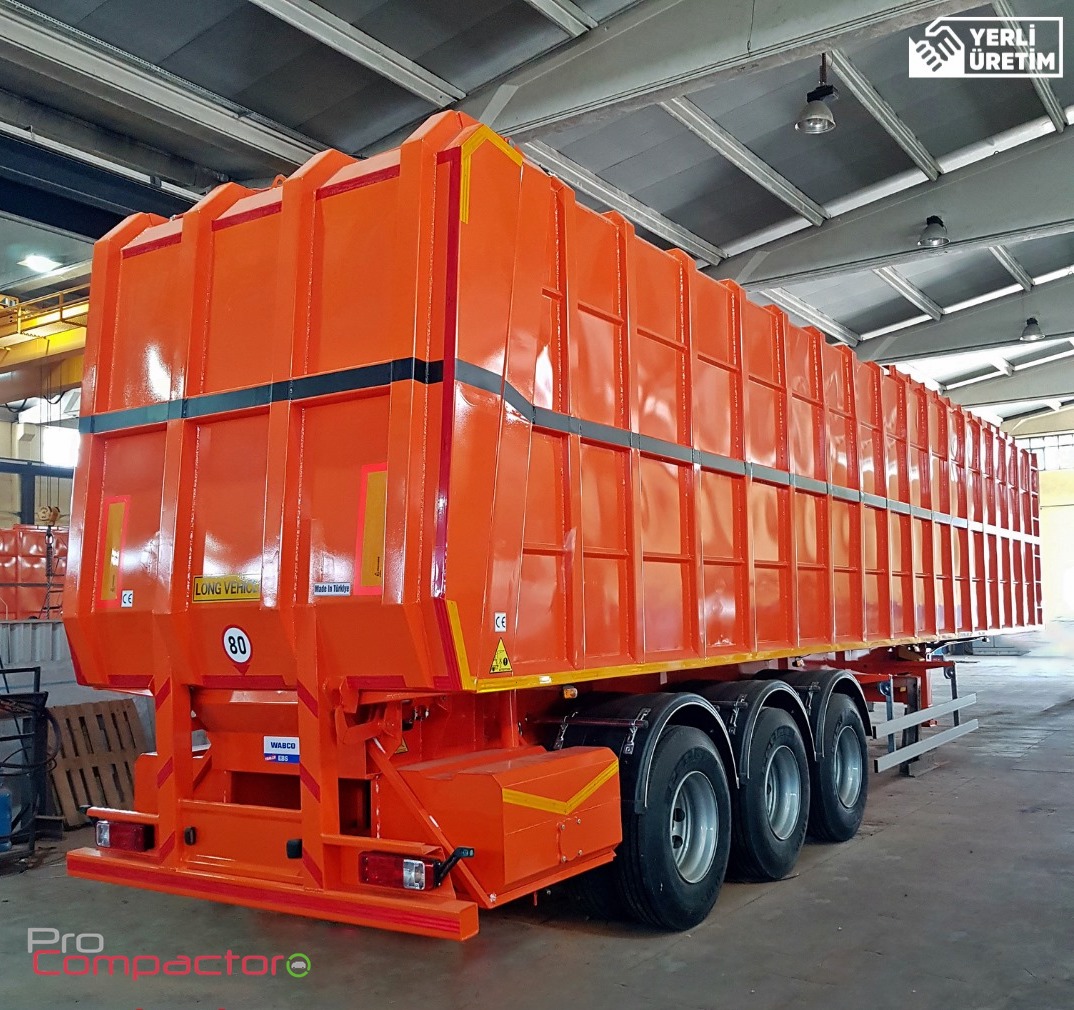 Capacity (m3): 60+3 m3 excluding tailgate (hopper)
Body Floor: Hardox / 5mm.
Body Side walls:St-52 / 5mm.
Body Roof : St-52 (S355J2) / 5mm.
Length: Confirmed By Drawing Upon Confirmation
Chassis: 3 Axles
Tires 315/80 R22.5
Case: High Resistance Steel With Differentiated Thicknesses
Painting: Ral Color Required By The Customer
Hydraulic System of Semi-Trailer Garbage Transfer Compactor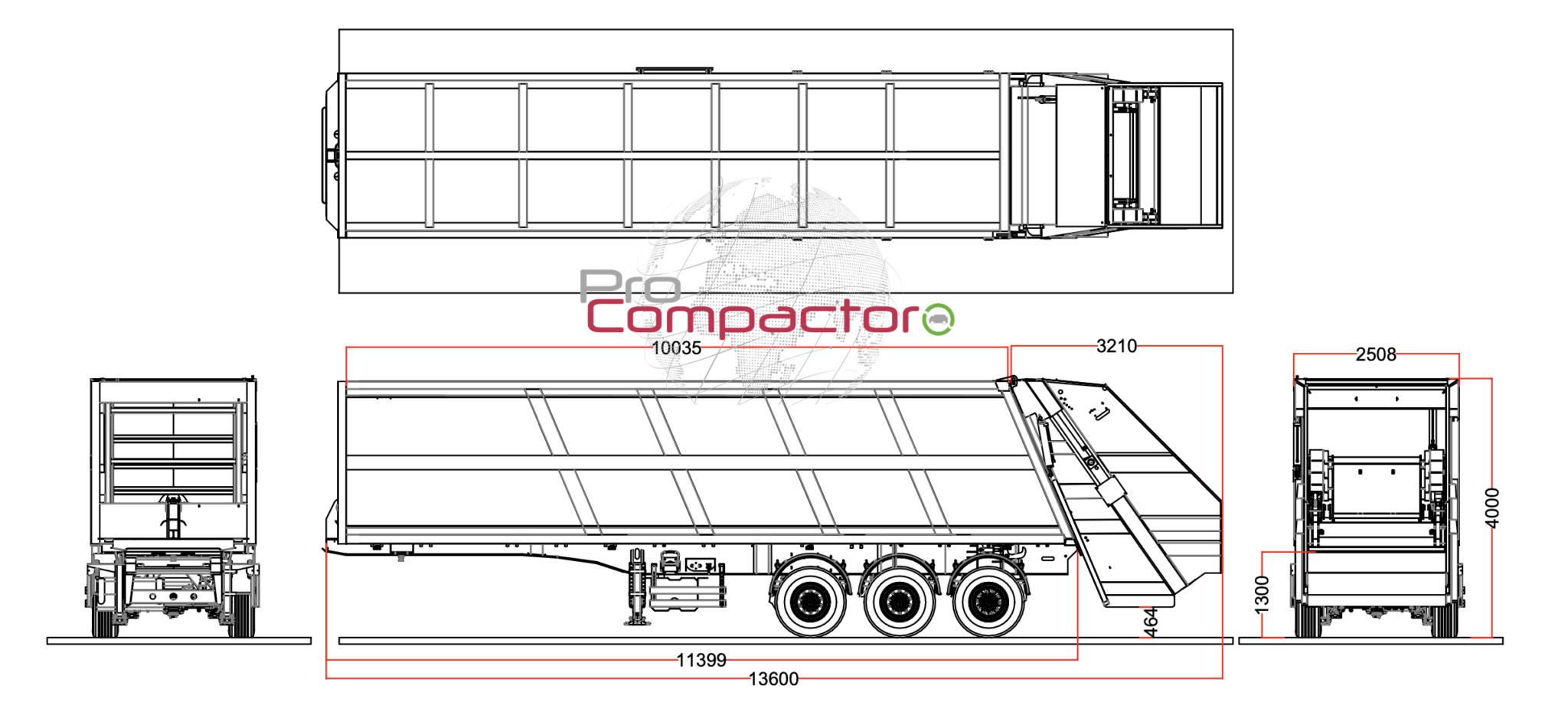 The system is made up of a hydraulic pump that drives the movement of the compacting / ejection cylinder and a double hydraulic pump for the servos.
The operating pressure of the main pump is 200 bar.
Compression / Expulsion Shovel
The storage and compact are obtained by means of a mobile shovel realize by a hydraulic cylinder with 2500 mm stroke and a bore equal to 160 mm which, translates horizontally. Longitudinally from the body to the unloading hatch. abolishes beyond function
Tailgate (Rear Hopper)
Tailgate (rear hopper) floor : From St-37 (S355JR) and St-52 (S355JR) / 6mm.
Tailgate floor extension (opposite wall) inside the body From St-37 (S355JR) and St-52 (S355JR) / 6mm.
Tailgate (rear hopper) side walls (under compaction plate) From St-37 (S355JR) and St-52 (S355JR)/ 6mm
High-quality specially manufactured rubber rear of the body made of ST52 steel plates with sealing element standard rear loading garbage collection equipment as well as a hydraulic compression back cover. Inside the body
Hydraulic when emptying the stacked waste curtain this clamping lid opens up by two hydraulic cylinders and
it closes automatically after completion. In addition to waste transfer collected to recycling facilities, the system standard waste containers on wide streets, collecting household waste by means of container lifting devices have great advantages and importance. Tank under the back cover for the collection of accumulated wastewater.
Ejection/Discharging Plate
The discharging plate moves on the rail welded above from the floor to the inner sides of the body
Discharging plate moves by means of double-acting telescopic cylinder. It is kept at the rear of the body when it is empty and moves automatically to the front of the body by a pressure valve as the garbage is started packed and pressed inside body.
from St-37 (S255JR) + St-52 (s355jr) steel
Container Lifting Devices/Bin lifter device
Suitable to take and empty 120 – 240 – 1100 liter plastic + 1100 liter metal bin / container lifting mechanism (plastic comb system) (from one side control).Container lifting device is activated/controlled by manually via hand lever.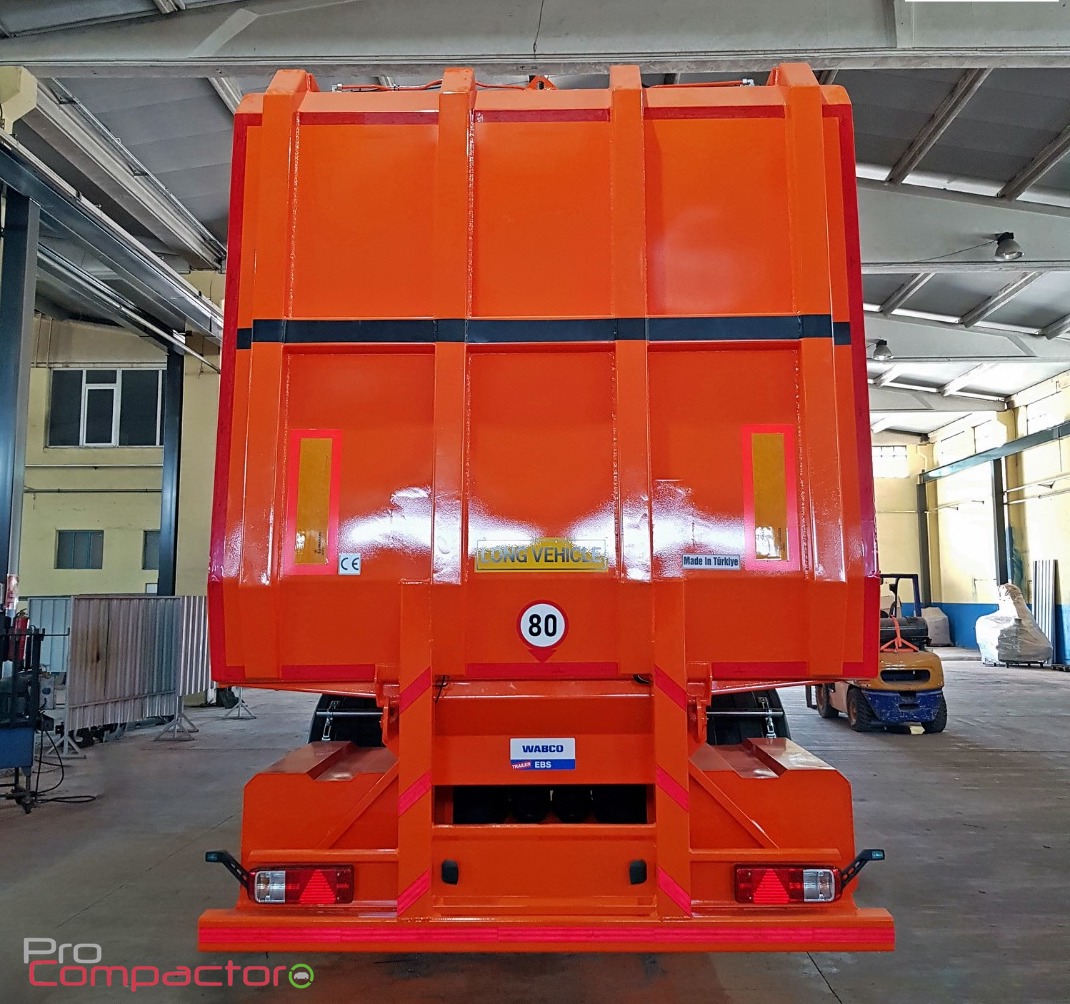 System of Compaction on Semi Trailer Garbage Truck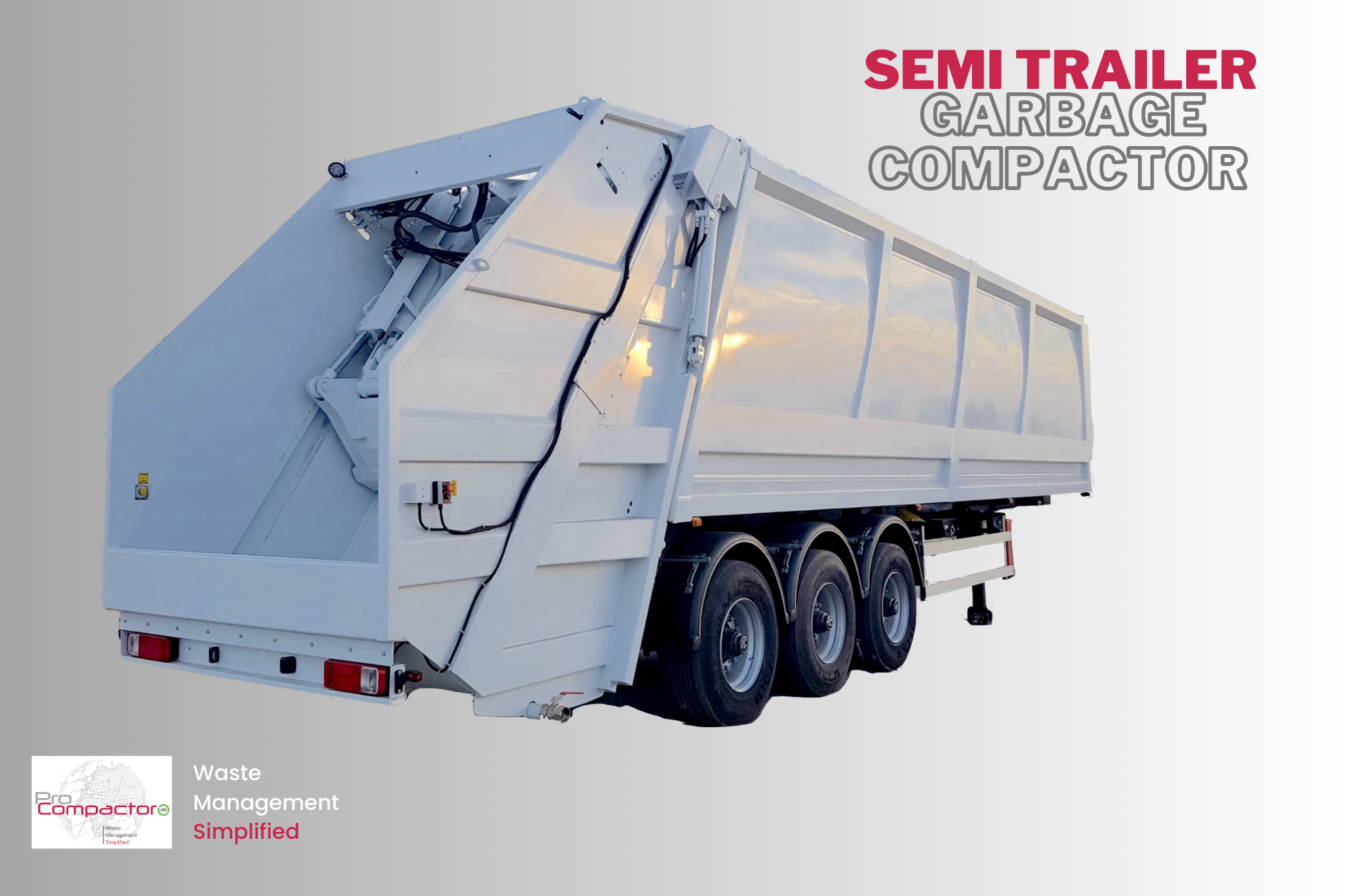 The compaction of the material by the compaction shovel takes place by pushing a hydraulic cylinder which slides it on a central guide, packing and compressing the material on the bottom of the vehicle.
At regular intervals, the cylinder is translated onto the fixed guide by hooking a mobile trolley to the guide itself. The possibility of locking the trolley in different working positions allows the compaction loader to move forward and backward along the entire length of the semi-trailer. (Step-by-step advancement system). This allows the use of a single-extension cylinder which offers much greater reliability than a multi-thread.
The first working position is the closest to the loading mouth and performs the function of freeing the loading mouth, the other positions are used for compacting and unloading the waste.
Electric System And Control Panel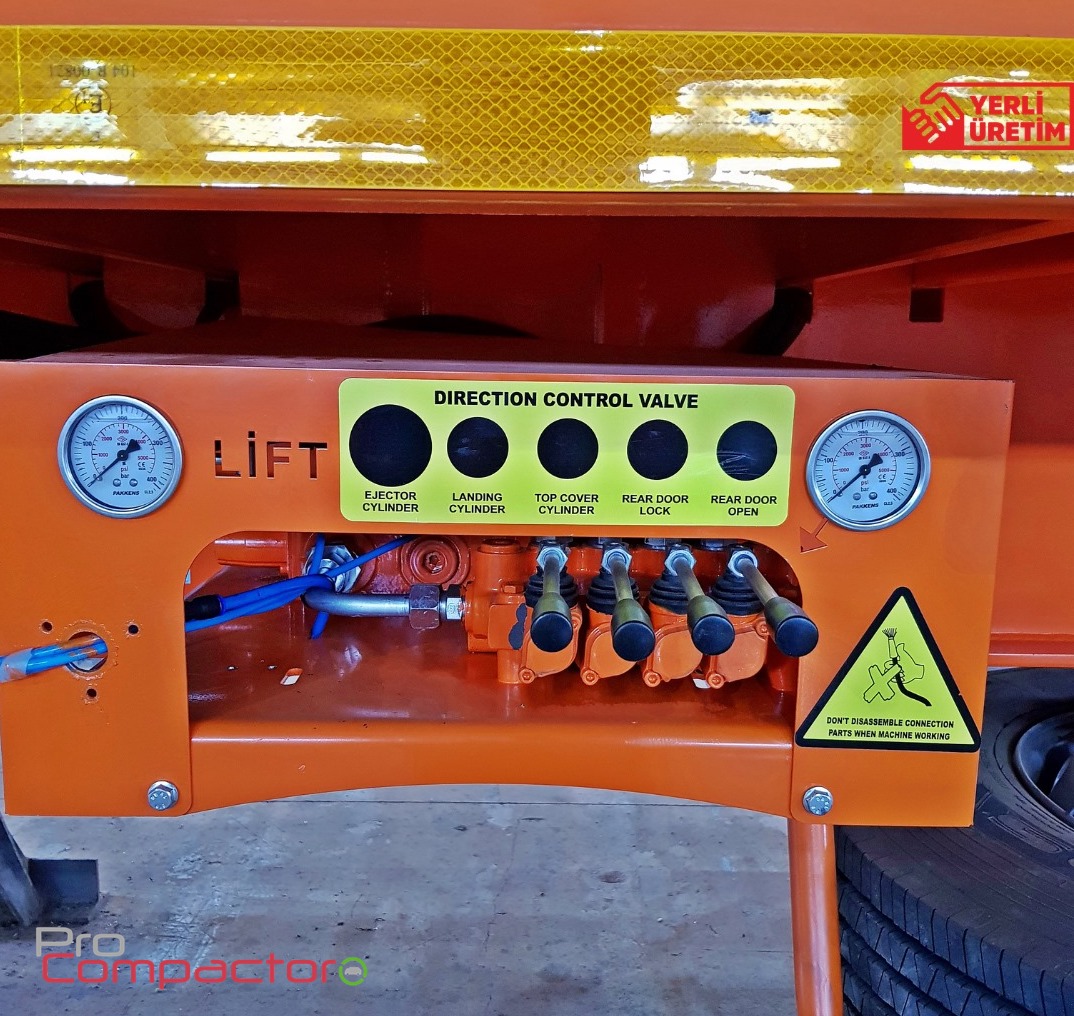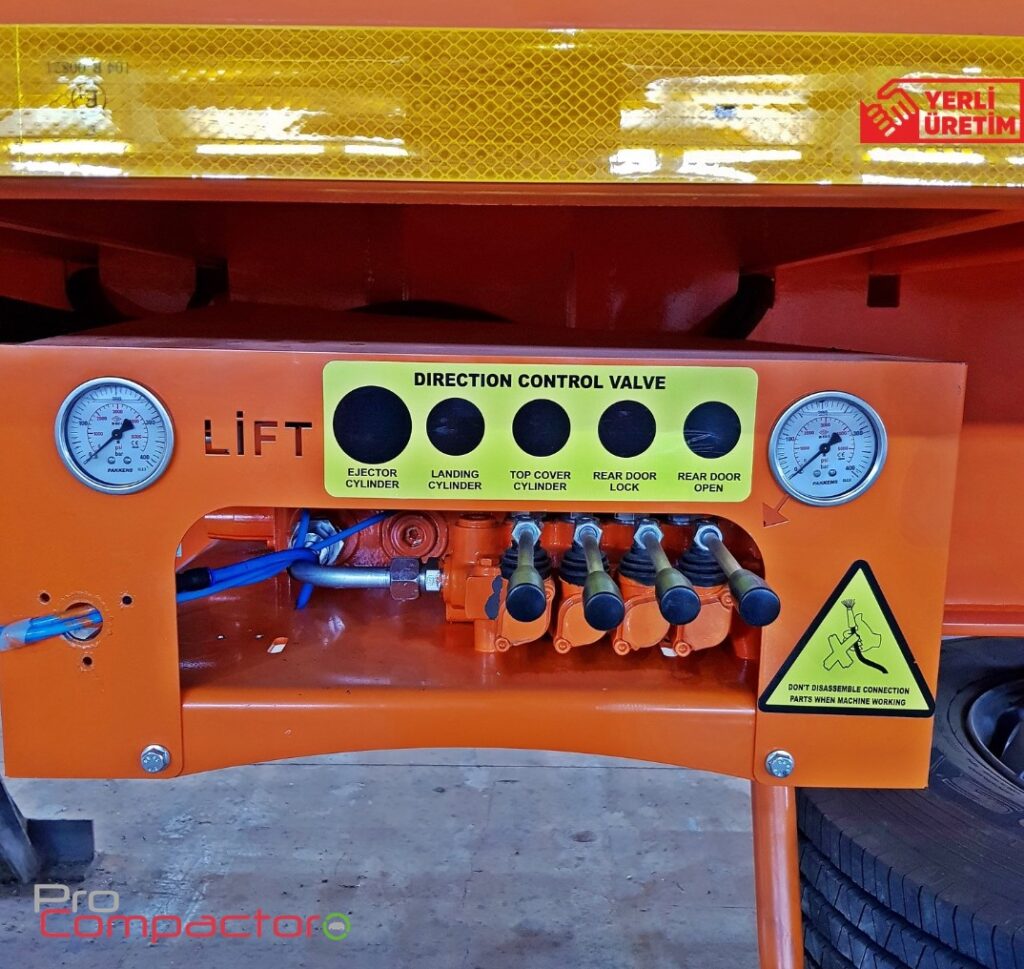 For the operation and management of the equipment, a 12V electrical system was installed using circuits and cards in accordance with the law. The general electrical panel is installed behind the compaction shovel and has a command console that works via an electronic card.
Controls on the console
Forward / backward compaction shovel
Anchor carriage Locked / Unlocked
Acceleration Minimum / Maximum
Manual / Automatic working mode
Automatic Cycle Start / *
container lift
Tailgate removal
Emergency stop button
Materials Used
Part Of The Semi-Trailer Thickness Material
Body Floor: Hardox 5 Mm
Side Plate: St-52 : 3 Mm
Reinforcement St-52 : 2.5 Mm
Rear Tailgate: St-52 : Mm
Compaction / Expulsion Shovel: St-52 3 Mm
Advantages of Using Semi-Trailer Garbage Trucks
One of the key advantages of semi-trailer garbage trucks is their large capacity. With the ability to carry large amounts of waste, these trucks are ideal for dealing with high volumes of garbage, especially in densely populated areas. This can greatly improve the efficiency of waste management operations, reducing the number of trips required to collect and transport waste and freeing up resources for other tasks.
Another advantage of semi-trailer garbage trucks is their versatility. These trucks can be used for a wide range of waste management applications, including residential and commercial waste collection, construction and demolition waste removal, and more. With the ability to handle various types of waste, semi-trailer garbage trucks can help to simplify waste management operations, reducing the need for multiple types of vehicles to handle different waste streams.
Semi-trailer garbage trucks are also designed for ease of operation and maintenance. With modern technology and design, these trucks are equipped with automated dumping systems that make it simple for drivers to unload waste quickly and easily. Additionally, semi-trailer garbage trucks are often built with durable materials that can withstand the demands of heavy use, reducing the need for frequent repairs and maintenance.
The use of semi-trailer garbage trucks also has environmental benefits. By reducing the number of trips required to collect and transport waste, these trucks can help to reduce emissions and fuel consumption, making them a more eco-friendly option for waste management. Additionally, many semi-trailer garbage trucks are equipped with features like sealed trailers and compaction systems that can help to reduce the amount of waste that ends up in landfills, further reducing their environmental impact.
Download technical file here

WASTE TRANSFER SEMITRAİLER 55-60m3
Contact Us